Sharing free Nepali language materials
Welcome to www.ms.dk/nepali - a place for free tools for learning Nepali.
Velkommen til www.ms.dk/nepali - et sted med gratis redskaber til at lære nepali.
For your convenience you can download all material hosted on this portal for off line use (130 MB).
Course materials / kursusmateriale
Mellemfolkeligt Samvirke (MS) Nepali course
This course, made from MS Nepal, aims at foreigners who wants to learn daily spoken nepali. It does not require you to learn Devanagari, the Nepali alphabet. It has a special focus on preparing Development Workers to work and live in Nepal.

Please note that only PDF's are available. To get editable .doc files, please see MS license/copyright.
Supplementary text material include: (browse files)
Flash cards

Numerals poster 1-1000.000

Verb conjugation, appendix & posters

Interrogatives poster
Supplementary audio-visual material include:
Tip: Download MP3 files for your MP3 player or computer, or burn a CD to listen to. Listen and learn while you ride your bike, do the dishes etc.
Nepali: A Beginner's Primer, Conversation and Grammar
By Banu Oja and Shambhu Oja, with editorial assistance from Mark Turin, Cornell University.
This course aims at foreigners who wants to learn daily spoken nepali. Note: It requires you to learn Devanagari, the Nepali alphabet (which requires some devotion).
Download PDF book (225 pages) from here.
Supplementary material:
Sample text / Eksempler på tekst
Example of a contract between a MS Development Worker (DW) and his/hers employers, courtesy of Jacob Nordfalk
As MS is in Nepal to do developing work, we should also try to be a model of the way we would like the things to be, at least in the small.
I think this includes to make written contracts with the staff we employ. Imagine that you yourself didn't have a contract with your employer, and you will understand the point!
This is an example of a contract between a DW and his/hers didi or garden man, using words that both DW and didi/garden man knows.
Dictionaries / ordbøger
Written dictionaries / skrevne ordbøger

A lot of other dictionaries are listed in the Tibetan & Himalayan Digital Library's Nepali section.
Audio-visual dictionaries / lyd- eller videoordbøger
Supplementary audio-visual material include:
English-Nepali language review video: download avi movie (17 MB)
(courtesy of Nikolaj Kilsmark, MS Nepal)

Nepali numbers as MP3 files: browse
Tip: Download MP3 files for your MP3 player or computer, or burn a CD to listen to. Listen and learn while you ride your bike, do the dishes etc.
Devanagari (Nepali script) / Nepalesisk skrift
If you are going to live in Nepal its very important to be able to read at least some Devanagari, e.g. the road signs etc.
Devanagari poster / plakat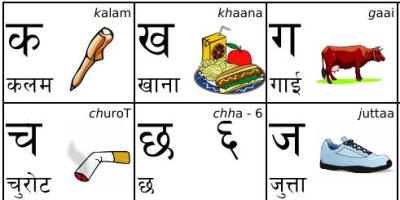 This poster is optimized for foreigners learning Nepali, so that only simple words that foreigners should learn anyway.
There are two versions:
Tip: Print both of them out and hang on a wall with 1 meters distance; when you are in doubt what is says on the only-Devanagari poster you can look at the Latin script one. This way you will learn Devanagari really fast.
If you want to modify the poster you can download original document (requires OpenOffice.org).
Devanagari fonts / skrifttyper
Its basically very easy to see Devanagari text; you just have to download and install a font from this page: HTTP://www.nepalhomepage.com/reference/fonts/ .
On Linux: After downloading, right click on the font file and select "Install font".
Devanagari keyboard layouts / tastaturlayout
To write Devanagari text yourself, print out this keyboard layouts and keep aside your computer.

Download here.
See also:
Latin-Devanagari translators:
About the material / om materialet
There very few material for learning Nepali on the Internet.
We at MS Nepal have a lot of high quality Nepali materials (and no commercial reason to keep it for ourselves), so we have decided to give it away for free, under some conditions (see License/ copyright below)

Goals
We at MS Nepal would like to:
Raise Nepali learning possibilities and facilities for foreigners

Raise Nepali language teaching material levels

Start a tradition of free sharing of Nepali language teaching material

Raise Nepali language status
Contributions from others
Others contributions of materials are welcome, if they fit in. Accepted contributions will on the MS web portal with attributions to the contributor.
License / Licens / Copyright


This work is licensed under a Creative Commons Attribution-Share Alike 3.0 License.
It is free for you to use as you will, modify and improve, as long as you follow these terms:
You must mention where you got the material from (MS Nepal) and

You must mention the address of this web portal (www.ms.dk/nepali).

If you modify, make changes or improvements, you must share these improvements!
Send us a copy of your improved material so others can also benefit.

If you failure to follow the above terms you will be prosecuted according to the law
All material on this web page, unless stated otherwise, origins from MS Nepal - Mellemfolkeligt Samvirke.
File formats
The files exist in various formats:
.doc is the Microsoft Word format

.odt is the Open Document Text format. If you cannot read, please install HTTP://openoffice.org office suite (free).

.pdf is a Adobe Acrobat document. If you cannot read, please install Adobe Acrobat Reader (free).
Application for getting the original editable files
To enforce the above license we have mainly made PDF versions of documents available. You cat get editable Word documents by writing to Umesh Regmi: umesh@msnepal.org.np or Jacob Nordfalk: jacob.nordfalk@gmail.com.
Please write:
Links / Henvisninger
Some other places on the net for learning Nepali: